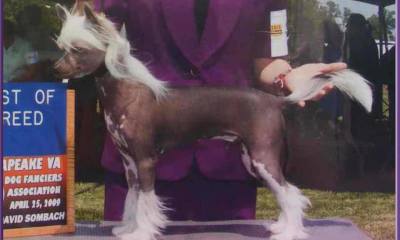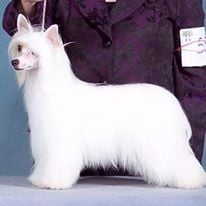 Powder Puff
Hairless

Chinese Crested grooming is key to the art of their exotic appearance..

To remove excess hair from a hairy chinese crested you will need to purchase a good set of clippers..Being a groomer and a showman to the Crested.. I would recomend Andis...Oaster or Whaul...Use a heavy duty clipper they will last longer than a pet clipper kit...

Blades:  A 50 blade on a Chinese Crested will give you a very close cut..This blade is generaly used by Vet's in surgery..Other blades that are used...40/30/10...and a 9 blade...

Veet/Nair/Magic: to remove stuble for the show groom...Choose 1 product...follow instructions carefully...and do not repeat more than 1 time in 3 days...this could result in burnt skin..

Razzors/Electric razors...to remove stuble ..a combination of one or both

Brushes: Should be of a good quality. We use a pin brush that is 1 in all systems..The smaller of them is preffered for the hairless chinese crested as well as the coated Powder Puff.

Comb: A good Greyhound comb comes in handy for the coated varity of the Chinese Crested.. The Evolution medium comb seems to work best..

Lotion: A good lotion is always a plus to use on the hairless crested..I prefer corn huskers lotion, but have used Aveno and Ocean Potion after sun lotion...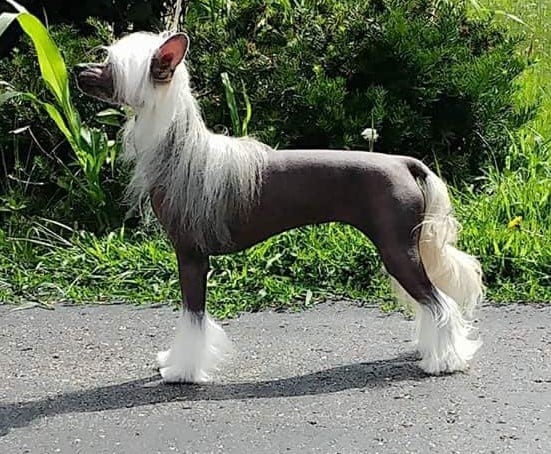 between the base of the skull and the back of the neck​ - not past the shouler blade​​

two-thirds of the end of the tail ​

Feet from the toes to the front pasterns and rear hock joints


Grooming according to the AKC Chinese Crested Standard..


A.
Head Crest begins at the stop and tapers off between the base of the skull and the back of the neck.

B.
The texture of all hair is soft and silky, flowing to any length. Placement of hair is not as important as overall type.  Areas that have hair usually taper off slightly.

C.
Tail Plume is described under Tail. In the Hairless variety, two-thirds of the end of the tail is covered by long, flowing feathering referred to as a plume.

D.
Feet from the toes to the front pasterns and rear hock joints (called socks).


flowing to any length.

Placement of hair is
not as important
as overall type.
​​
​
Please pay notice to the fact that the AKC Standard clearly points out that ANY LENGTH of hair is allowed...and that OVER ALL amounts and placement of hair
is not as important as OVERALL type..spelled out this means

AMOUNT OF HAIR is not as Important as OVERALL STRUCTURE...
Pimples...Blackheads and Sun Burns....OH MY...


Pimple : a blockage of the skin's pore.
Blackhead :  blackish bump or plug on the skin.
Pearl  :  white bumps on the skin caused by immature oil glands.


TREATMENT  For the hairles Chinese Crested..
can vary .... I recommend first examine the dogs diet and then looking into the pedigree..as it seems that some lines carry more skin problems than others..

AGE also plays a factor as many CC go through what is referred to as "the teenage acne period" between the ages of 6 months to a year..

Color seems also to play an important role in this factor...as white skinned or lighter toned dogs seem to have more blemishes..
Further Recommendations
Corn free diet
pro acne
witch hazel
mint julep masks
pore strips
clear away skin cleanser
    Ears groomed and ungroomed both are correct according to the AKC sttandard
Hair on the ears and face is permitted on the Hairless and may be trimmed for neatness in both varieties.